Case Study: Multichannel Personalisation
Making data-informed decisions about their entire customer journey
100s of new styles weekly
Delivery services to over 100 countries
300+ Stores worldwide
Evans was the first high street brand designed for plus-sized women and is part of the Arcadia Group. Working with Qubit since 2011, the company has been able to use the platform to understand its visitors and make decisions about ways it can influence different customer segments based on their previous purchase and behavioral data.
The Qubit platform has proved integral to creating experiences on the website which not only win new customers, but retain existing ones. By implementing the technology, which enables the most intelligent understanding of their visitors, the team at Evans can precisely match each customer with the widest range of personalisation experiences and successfully impact customer behaviour at scale.
Shop before it's gone
Social proof messaging is surfaced showing how many other users have added the same product to basket within the last few hours.
Result
3.34% RPV uplift
'Selling Fast!' on the basket page
By highlighting items that are selling fast on the basket page, Evans has been able to drive urgency at a crucial time.
Result
3.47% RPV uplift
Highlighting popularity on the product page
Displaying messaging alongside the top 200 added to bag products in the previous 24 hours drives further urgency.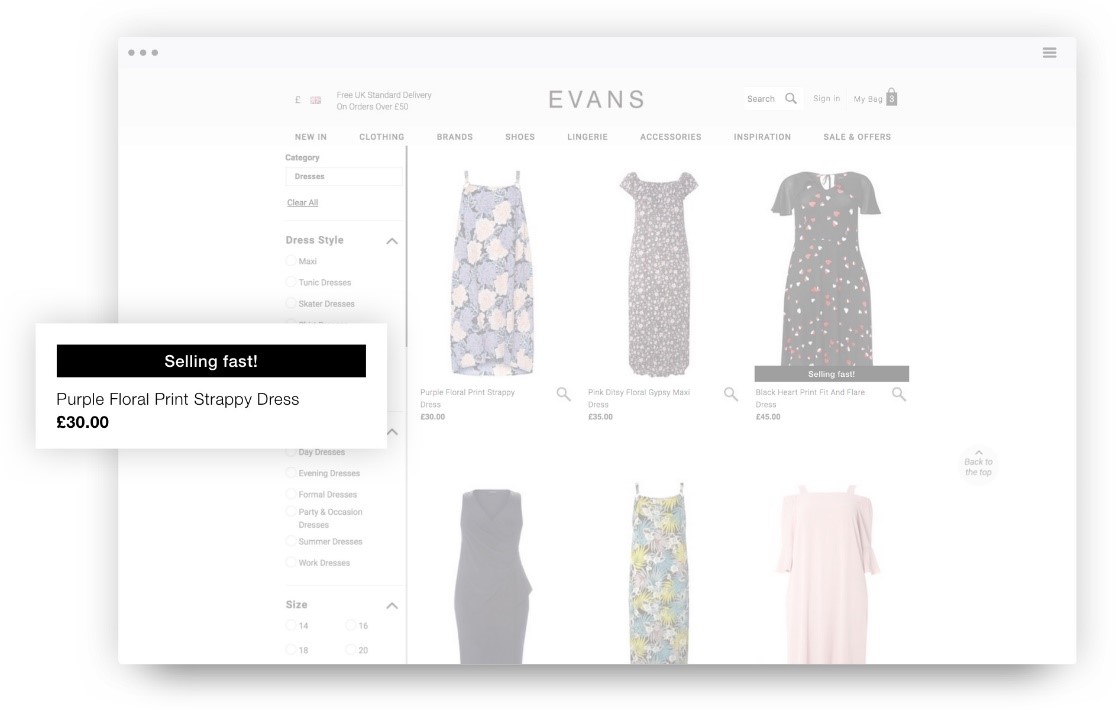 Result
8.43% RPV uplift
Prioritizing best-sellers on mobile
As well as on desktop, Evans uses urgency messaging on all products in the top 200 added to bag items in the past 24 hours to increase conversion.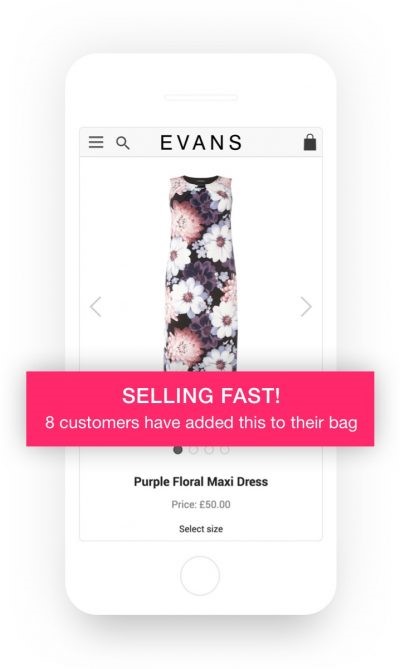 Result
5.62% RPV uplift
Simplifying the checkout
Making the purchasing journey as efficient as possible was a key priority for the Evans team, especially when the predominant customer base are not digital natives. When a visitor is at the point of purchase, having filled their shopping cart, it's crucial to get them to convert. The cart page was optimized and the path to purchase was streamlined thereby making the customer journey more straightforward.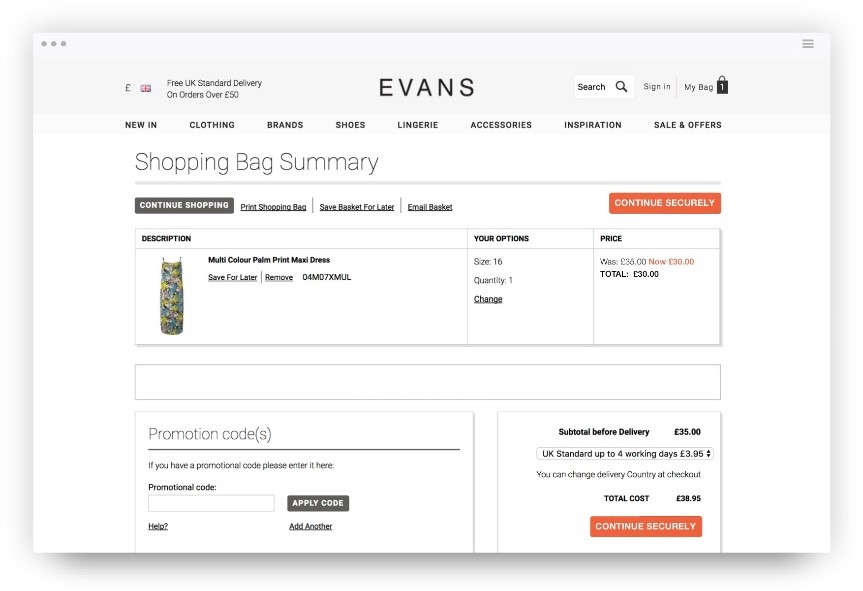 Result
3.19% RPV uplift
Segmented welcome message
Greeting new visitors to the Evans site is a great way to start a personalised customer relationship. For those new visitors, Evans has surfaced a welcome message giving advice on how the site works, available offers, and other interesting information for new shoppers.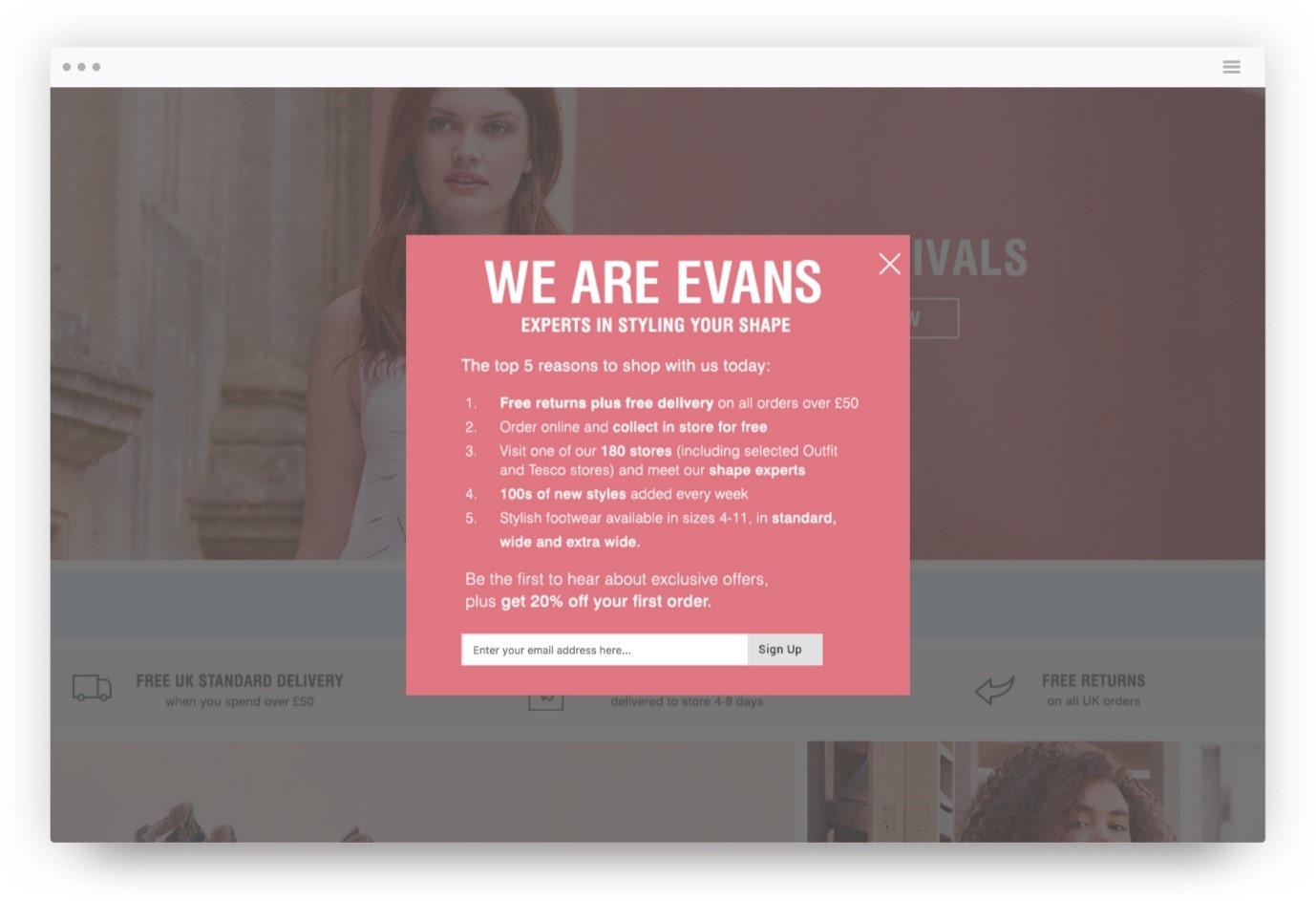 Result
2.5% RPV uplift